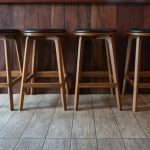 As the winter season approaches, it is essential to take extra care of your wood furniture. The fluctuating temperature, dry air, and moisture can all have a detrimental effect on your furniture if not properly maintained. In this blog post, we will provide you with some valuable tips to help you protect your wood furniture during the winter months.
1. Keep the furniture away from heat sources:
During the winter, it is tempting to place your furniture near heat sources such as radiators and fireplaces. However, direct exposure to heat can cause the wood to dry out and potentially lead to cracking or warping. Therefore, it is crucial to keep your furniture at a safe distance from such heat sources.
2. Use a humidifier:
Winter air is known for being dry, which can rob the moisture from the wood furniture. To prevent this from happening, consider using a humidifier in your home. A humidifier will help maintain the proper humidity levels and prevent the wood from drying out. It is recommended to keep the humidity levels between 40% and 45% for optimal wood furniture care.
3. Avoid extreme temperature changes:
Wood is sensitive to extreme temperature changes. Therefore, it is crucial to avoid placing your furniture in areas with frequent drafts or sudden temperature fluctuations. Rapid changes in temperature can cause the wood to expand and contract, leading to cracks and damage. Ensure that your furniture is in a stable environment, away from windows and exterior doors that may have drafts.
4. Use protective coasters and pads:
To protect your wood furniture from scratches, water rings, and heat marks, use protective coasters and pads. Place them under hot or cold containers, glasses, and any items with sharp edges. These protective measures will provide a barrier between the furniture and potential damage, ensuring the longevity of your wood pieces.
5. Clean and polish regularly:
Regular cleaning and polishing are essential to maintain the beauty of your wood furniture during the winter season. Dust and dirt can accumulate on the surface, which, if left untreated, can cause scratches and damage over time. Use a soft, lint-free cloth to gently dust the furniture regularly. Additionally, consider polishing your wood pieces with a high-quality furniture polish to restore their natural shine and protect them from moisture.
6. Avoid excess moisture:
While dry air can be harsh on wood furniture, excessive moisture can lead to a whole different set of problems. Excess moisture can cause the wood to swell and warp, leading to permanent damage. Be cautious of spills and moisture buildup on wooden surfaces. Clean up any spills promptly and use coasters or mats to protect the furniture from condensation or wet glasses.
7. Store properly if not in use:
If you have any wooden furniture that is not in use during the winter months, it is crucial to store it properly. Clean the furniture thoroughly, apply a layer of furniture polish, and cover it with a protective cover or cloth. This will prevent dust buildup and protect it from any potential damage while it is not in use.
Conclusion:
Wood furniture adds warmth and elegance to any home. However, during the winter season, it requires special care to ensure its longevity. By following the tips mentioned above, you can protect your wood furniture from the harsh conditions of winter and enjoy its beauty for many years to come. Remember, a little extra care goes a long way in preserving the charm and durability of your beloved wooden pieces!
Got Questions? Let Us Help!
Crowleys Homeworks has been in the furniture sales business since 1993, we know a thing or two about quality home furniture! We carry items such as home decor, mattresses, recliners, carpeting, and more. We also offer free pickup and delivery! Our business philosophy as a furniture store is simple: Treat our customers as we would our best friend, with honesty, and courtesy, and strive to meet their needs with minimum aggravation and maximum value. Call us today!