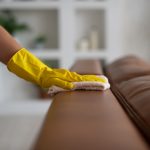 Investing in quality furniture is a significant decision, and it's important to take proper care of it to ensure its longevity and ongoing beauty. With proper care and maintenance, you can extend the life of your furniture, protect it from damage, and keep it looking its best for years to come. In this blog post, we will explore essential tips that will help you care for and maintain your furniture pieces.
1. Read the Manufacturer's Instructions:
When you purchase new furniture, it's essential to read the manufacturer's instructions and follow their care recommendations. These instructions often provide specific guidelines for cleaning and maintenance based on the material and construction of the furniture. By following these instructions, you can ensure that you are caring for your furniture in the best way possible.
2. Dust Regularly:
Dust and dirt can accumulate on your furniture surfaces over time, causing it to look dull and dirty. Regular dusting using a soft cloth or a dusting brush helps remove dust particles and debris that can scratch the surface. Dusting also keeps allergens at bay, creating a cleaner and healthier environment.
3. Clean Spills Immediately:
Accidents happen, and spills are inevitable. However, it's crucial to clean up spills immediately to prevent them from soaking into the fabric or wood and causing permanent damage. For fabric upholstery, blot the spill gently with a clean cloth, taking care not to rub or spread the liquid. For wooden furniture, use a slightly damp cloth to clean up any spills, and dry the area immediately to prevent water damage.
4. Protect from Sunlight:
Sunlight can cause your furniture to fade, discolor, and deteriorate over time. To protect your furniture from sunlight damage, it's important to position it away from direct sunlight or use window treatments like blinds or curtains to filter the UV rays. Additionally, consider using furniture protectors or applying UV-resistant coatings to minimize the effects of sunlight exposure.
5. Use Furniture Covers:
If you have furniture that is not frequently used or is stored for extended periods, consider using furniture covers to protect it from dust, sunlight, and potential damage. Furniture covers provide an extra layer of protection and help maintain the furniture's condition when not in use.
6. Avoid Overload:
Furniture pieces, especially storage units like cabinets or dressers, have weight limits. Avoid overloading drawers or shelves beyond their capacity, as this can lead to structural damage, sagging, or even collapse. Be mindful of the weight you are placing on each piece and distribute the weight evenly to ensure longevity.
7. Use Furniture Pads:
To prevent scratches and marks on your furniture, use furniture pads on the bottom of chair or table legs. These pads provide a cushioning barrier between your furniture and the floor, reducing the risk of damage. Furniture pads also make it easier to move furniture without scratching the floor or damaging the furniture itself.
8. Rotate Cushions:
For furniture with loose cushions, rotate them regularly to distribute the wear and maintain their shape. This is particularly important for seating that is used frequently, like sofas or armchairs. By rotating the cushions, you ensure that they wear evenly and avoid the development of permanent indentations or sagging.
9. Avoid Harsh Cleaning Products:
When cleaning your furniture, avoid using harsh or abrasive cleaning products that can damage the surface. Instead, opt for mild, non-abrasive cleaners specifically designed for the material of your furniture. Always test a small, inconspicuous area before applying any cleaner to the entire surface.
10. Professional Maintenance:
Consider scheduling professional maintenance for your furniture periodically. Professional cleaning and maintenance services can help remove deep stains, condition the material, and extend the life of your furniture. Some materials, like leather, may require specialized cleaning and conditioning, which professionals can provide.
Summary
Proper care and maintenance are essential for preserving the beauty and longevity of your furniture. By following these essential tips, you can protect your investment and keep your furniture looking its best for years to come. Dust regularly, clean spills immediately, protect your furniture from sunlight, and avoid overloading. Use furniture covers, pads, and rotate cushions to minimize damage. Avoid harsh cleaning products and consider professional maintenance when necessary. With a little care and attention, your furniture pieces will continue to bring you joy and comfort for many years.
Got Questions? Let Us Help!
Crowleys Homeworks has been in the furniture sales business since 1993, we know a thing or two about quality home furniture! We carry items such as home decor, mattresses, recliners, carpeting, and more. We also offer free pickup and delivery! Our business philosophy as a furniture store is simple: Treat our customers as we would our best friend, with honesty, and courtesy, and strive to meet their needs with minimum aggravation and maximum value. Call us today!